No, this is not a post about Christmas. Whilst that might be your busy season, here at the barn this is the busy season. We switch from summer to winter. From summer grazing, summer feeding to the winter versions. Theres new fencing to sort, new morning and evening routines, absolutely no light in the mornings, the realisation you need a coat and a hat now at 6am, with gloves in your pocket  Its time to worm the animals, harrow the poor old summer grazing, clip the ponies, add fluffy bedding to the chicken house, feed serious amounts of hay, and do something about all the bloody leaves.  Every day there are new bits of branches to pick up, plus now the thick prickly hedges are mostly leaf free they need checking and re-enforcing against small ninja escape artists the goats. The sunrise isn't really a 'rise' anymore its sort of dark grey to light grey thing. Sunsets can be pretty though. If the fog hasn't turned up. 
Now is the time to do it of course, before we reach the heavy frost and frozen ground part, where you have to break the ice on troughs, slide through a foot of mud at every gate and wonder why your hobby isn't something indoors.  
There are never enough torches, ready filled haynets, matching gloves or hours of daylight. 
Still wouldn't swap it for the world.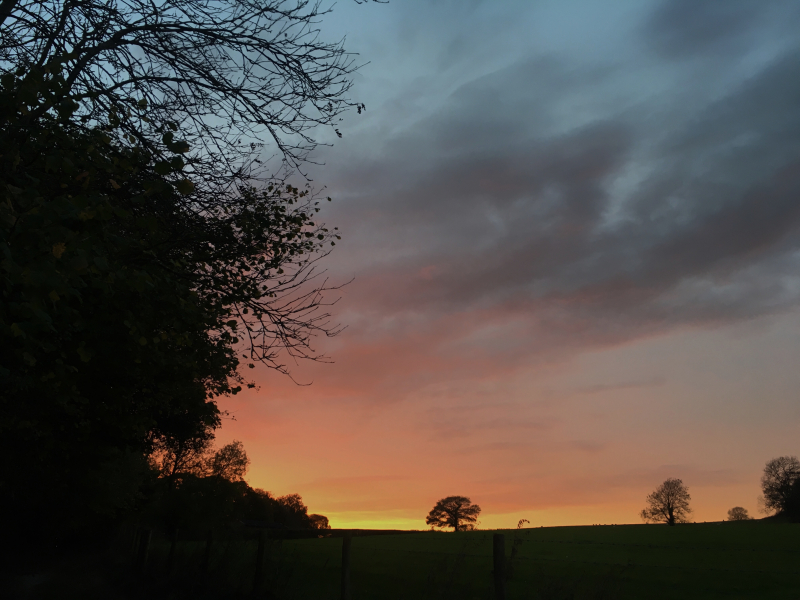 unedited sunset from the iPhone. *swoon*