whilst trying something out with my lens and the light I took a picture of my new hanging baskets
 {- a bit like tomatoes and I, I plant new hanging baskets every year and they never make it thro the seasons. or even just summer. LOL- }
and I was going to upload it here. But then I thought it was a) a sad feeble thing to take pictures of.
and b) could be early signs of turning into a stepford wife.
However blogs are much more exciting to look at with pictures so here it is.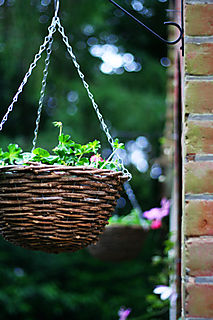 But try not to write me off just yet.