1) I began this in my head days ago. Apple really really need to work on the 'from thinking to publishing' typing app....  all of these little iPhone pics relate to all the post below :)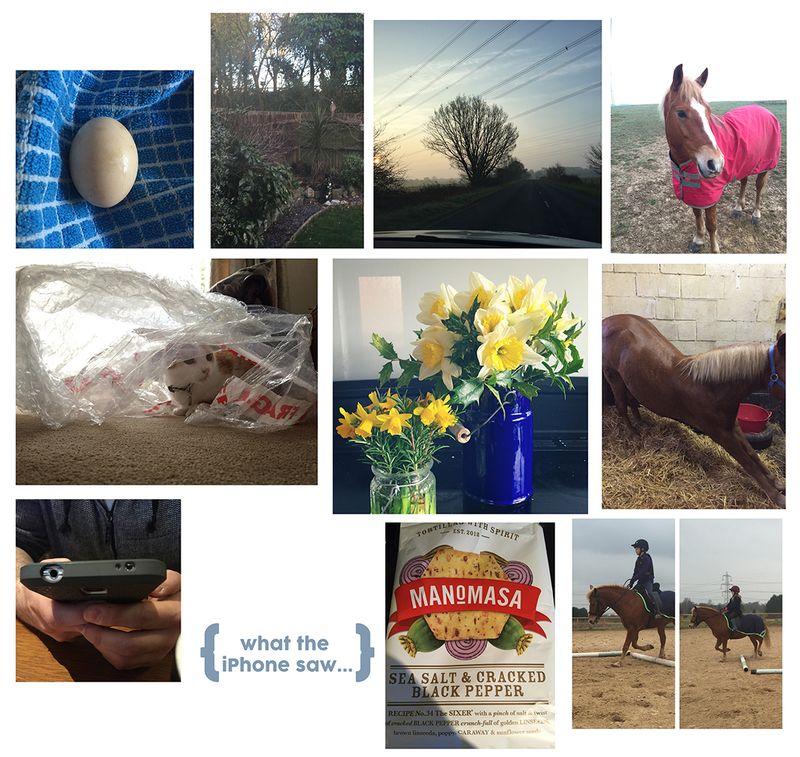 2) Its sort of like spring. mostly. its a bit chilly, and the ice on my windscreen at 6.30am was a bit of a shock today, but its sunny. I can see daffodils, crocuses and hints of greener grass. There are Catkins and the start of blossom. Fresh eggs are back on the menu from my little bantams, and just about everything I own is sprinkled liberally with chestnut hair - spring equals moulting season for Mr Puzzle.  I even found his fur in-between my iPhone and its plastic case..!
I just had to bring in a handful of the daffodils from the garden, we have so many, and spread their cheeriness around the house. 
3) I am a bit obsessed with Pheasants. They are sooooooo pretty and currently about eight of them hang around the yard. One was quite happily wondering around our garden the other day... little did he know I'd quite like one to keep as a pet! Still; guess he's lucky I don't view him as a meal like most people!  Not the brightest of birds, in the sense of brain cells but definitely the brightest in terms of colours. the colours fascinate me, that pale blue on their backs in particular.  Of course my real camera was in the car when he dropped in,  and my iPhone struggled to find him, but trust me, he's sat on the fence in the garden pic! 
4) I've realised I see faces, everywhere.... in objects, not obviously peoples faces.... I have decided I need to take a picture to see if others can see them too. That would be my son's phone with the smiley face in the picture then! See it? 
5) Mornings are different now I see spring. Its a pleasure to drive along in DAY LIGHT and see the early morning mist and sunrise. I feel quite privileged to see it most days. That's not generally who I feel on dark rainy November mornings!!! with ice and gale force winds. Then, then I wished I kept budgies or something... now; now I'm delighted to have a pony and a reason to get up early :) 
6) Streeeeeeeeeetch and grow.... I've been trying for ages to get a picture of Puzzle stretching in the mornings... He literally stretches back like a dog, right down to the floor. Then he leans forward and stretches each back leg out behind him. Never fails to make me laugh. I've never seen another horse do it either. Its not the greatest picture of it but the minute I put my hand in my pocket for my phone he stops stretching and comes to see if its phone or CARROTS!! 
7) Theres also a picture of him looking OH so smart in his rain mac :) You can spot him a mile off in that red! 
8) The most beautiful canvases arrived for a client of mine the other day. They were huge and exceptionally well wrapped. Took me twenty minutes to unwrap them. Turned around to find Hugo loving the bubble wrap as a hidden hole!
9) We have been upping Puzzle pony's fitness and have had a lot of fun designing complicated trotting pole layouts. Okay I've had lots of fun :) LOL Think its a lot harder ON the horse than on the floor! The girls are getting good at following instructions a a fair speed now!
10) Discovered a new brand of tortilla chips and have become addicted. Manomasa - in various flavours and shapes, are light years ahead of other chips. Mighty fine and worth trying, if I do say so myself! And yes - such pretty packet design! LOL!