yes thats it, I AM going to write down all of my recipes.  Starting now.  You'll have to bear in mind I really dont measure stuff, nothing I cook claims to be super healthy, unless I rave about that fact first, nearly everything is gluten free, or gf adaptable, and I talk too much between instructions. Other than that, its like every other recipe/cook book youve ever read ;) ;)
Posted a pic of these on instagram the other day and got asked for the recipe so here it is :)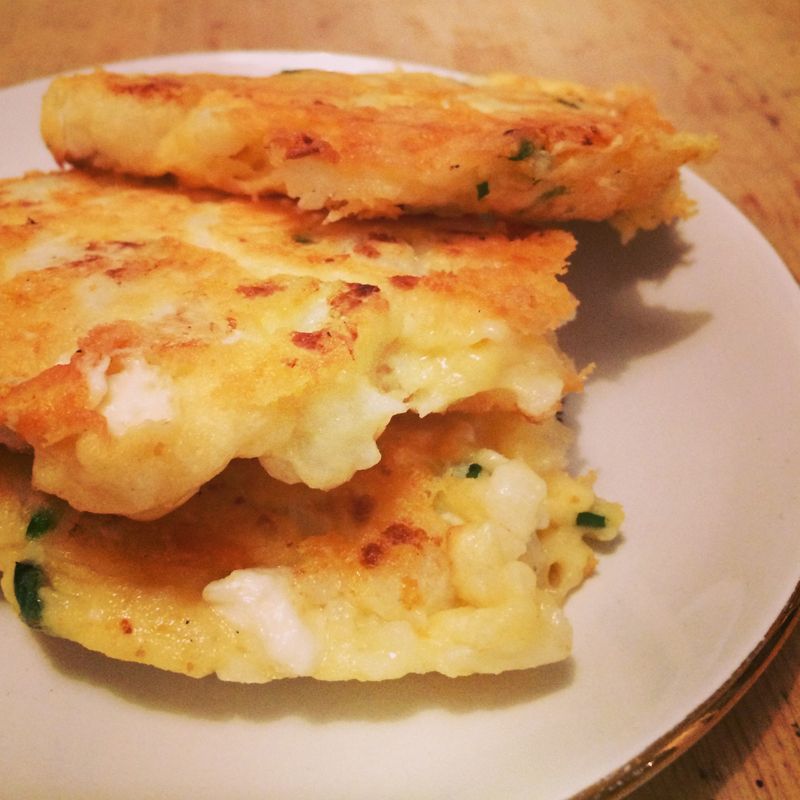 Need -
One small cauliflower
100g plain flour - thats ordinary plain flour, or GF plain flour. if youre using gf then add half a teaspoon of Xathan Gum in too.
4 eggs, beaten,
at least 100g of feta crumbled into small chunks 
125g of mozerella torn into pieces and/or medium cheddar. I use both :)
zest of half a lemon,
Fresh parsley or coriander, chopped
pinch of paprika
Do -
cut the florets away form the main cauliflower stalk, and chop into pieces no bigger than a inch. for heavens sake dont measure it.  throw these into boiling water until mostly cooked with a firm bite. Drain and place back into the saucepan to dry out for a few minutes
put the flour into a large bowl and whisk in the eggs. Add plenty of seasoning - trust me, as a nonsaltaholic even I needed more salt with these - and make a smooth batter. If using gf flour do not over mix, you'll make it tough. stir in the cheeses, lemon zest and herbs. gently add the cooked cauliflower.
Oil a large frying pan and add big spoonfuls of mix. As it fries press down on the top of each fritter. Flip over and cook the other side. place on a baking tray in a warm oven to keep until all fritters are done. Serve with relish, and more grated cheese.  Fabulous as a side with soup. Serves four/five of us.