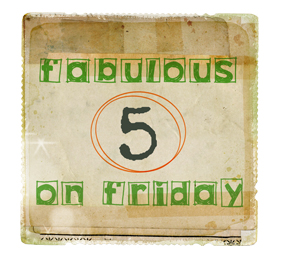 Whats truly FAB in my little world, right now!
1) In the right place at the right time. Theres been a lot of that lately. wooo! People in the right place, kind words in the right place, sweet thoughts in the right place and a whole big lot of good...
Is it destiny or our own doing that causes this? I dont know. But I'm out for finding the right place and the right time.
2) Finding common ground. saying - oh my gosh! me too! is just the greatest feeling. Connection. Its fabulous. 
3) There's quite a bit in my life I could do without. Theres quite a bit I am tired of, have run out of steam with. Things, people occasionally, places, obligations.... you know. But there is quite a lot of silver linings, good bits and bright sides, Hurrah for those. 
4) Travel plans. Ooooo. Travel plans - happening really soon plans, not too far away plans and dreaming of it kind of plans. Travel rocks. :) 
5) My favourite time of year - here it comes. Autumn. I kinda of let Summer {ha! if we can call it that...} slip by me. Not so this season. This season, I am working it. Its going to be busy, mad, oversubscribed and a whole lot of fun :)